Duplo 600i Booklet Maker
---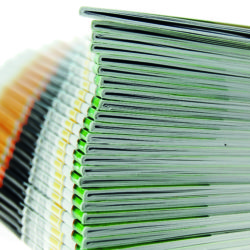 30th March 2016
Pollards are pleased to announce the installation of our new Duplo 600i booklet
maker including the optional 3-knife trimming system.
The 600i is a fully automated stitching, folding and trimming booklet maker. The system has been designed to be extremely easy to set-up for rapid change over
times and the PC controller enables operators to create and save an unlimited
number of jobs for future instant recall, ensuring exceptionally high productivity!
The 600i has more than 25 finishing configurations. For many standard formats the 3-knife trimming allows the user to take printed SRA3 or B3 sheets directly from the press and finish the booklet in one operation to save time and costs. This enables us to increase the range of same day manufactured products for next day delivery to our customers.
The system is an ideal solution for cost effective production of the following types of products:
Brochures
Catalogues
Corporate and financial reports
Menus
A4 landscape brochures
Photobooks
Magazines
Newsletters
CD booklets
A5 landscape booklets (2up)
A6 landscape/portrait booklets (2up)