Direct Mail
---
Why Use Pollards EMS?

Better response rates and higher returns
Effective Mailing Solutions (EMS) started work in the education sector in 1990, and has expanded into ever more sectors ever since – public sector, charities, political parties, business to business, business to consumer, leisure and tourism and many more. Now they have joined forces with Pollards to create the formidable Pollards Effective Mailing Solutions.
Using the latest technological advances in data selection, mail sort and delivery, Pollards EMS continually offers top value, fast turnaround, effective mailing solutions, whatever the size! Let us take the hassle out of your direct mail needs.
Commercial sector experience
Print and mail in the commercial sector has seen greater reliance on targeted marketing than ever before. Over a course of several years we have worked with a large coaching/hotel group to achieve occupancy rates of 97% or more.
Achieved by thorough data selection, carefully thought out content, and the right timing, we repeatedly helped them sell all their last minute vacancies with small but precisely targeted mailings – offering large returns for low investment.
Effective solutions for smaller businesses
Sitting round a table folding letters, putting them into an envelope, maybe sticking on a label or stamp or putting them through an expensive franking machine is not the best use of your time.
Our service starts with smaller volumes, making it economical and effective to outsource these tedious tasks. This in turn allows smaller businesses and organisations to get on with their real jobs. Arranging a mail merge, checking the data for correct address, removing duplicates and overprinting the envelope with a logo, postal indicia and the address are just some our specialties, saving you time, effort and money.
A guide to Direct Mail

DATA
The first step to a successful direct mail campaign is obtaining the right data.
From your own customers or an external source. Pollards EMS will help you select your list to make sure you target people most likely to have an interest in what you have to offer as well as some things in common with your present clients.

DESIGN
Postcards, Fliers, letters, brochures, catalogues – or something different.
The size, shape and look of your mailing piece will depend on a number of factors – how many recipients, the target audience, the content, the budget, etc. Pollards EMS will help you choose the best format for your campaign.

PRINT
Pollards EMS will help you select and commission the ideal print item for your campaign.
With the content, look and feel closely matched to your marketing message, we will ensure you get the best prices and we manage the whole print process, so that production is done to specification, budget AND ON TIME.

MAIL
The last step to getting your mail delivered can be the most important.
There are many options when it comes to the delivery of your finished product. If you are looking for the quickest or maybe the most cost effective, EMS can provide various options that will help your campaign reach its targets.
FREE DIRECT MAIL MARKETING TOOLKIT
Handy tips on creating the best direct mail campaigns that
generate the best responses. Click here to request one.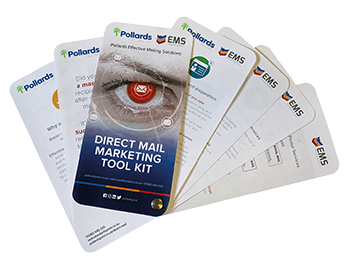 Our Services
ADVERTISING MAIL
No matter what the product you are promoting, advertising mail is a great addition to your marketing strategy.
BROCHURE/MAGAZINE MAILING
Send your marketing brochures/magazines with ease using Pollards EMS brochure mailing.
TRANSACTIONAL MAIL
Send quotes, reminders, invoices or updates with Pollards EMS transaction mail. Save time and money whilst improving your efficiency.
ROYAL MAIL GUIDANCE
Pollards EMS are a Royal Mail accredited, approved print and mail house and part of Royal Mail's Mail Made Easy programme.
POLYWRAPPING / POLYBAGGING
Your marketing media is something your proud of, why not send it in clear packaging so the first thing the addressee will see is your brand and the item your promoting!
ENVELOPE PRINTING
From Donation Envelopes to Business Reply Envelopes, we offer full edge to edge envelope printing. From small 70mmx100mm to C4 Board Backs. Including Self Seal, Gummed and Peel + Seal.
ROYAL MAIL DOOR DROPS
Getting your marketing material seen by the public has never been easier, with Royal Mail Door drops, we can get your product seen by thousands in any targeted area.
POSTCARD MAILING
Send 500 – 4000+ postcards from as little as 30p each. Use Postcard Mailing for reminders, advertising products/services + lots of others
PRINTING
From compliment slips to postcards, if we can't print what you need inhouse, we will know someone who can!
TABBING MACHINE
An economical alternative to using traditional envelopes in direct mail campaigns is to use small adhesive tabs on folded mailing. Not only do tabs ensure closure, they are a non-intrusive option and let you take advantage of Royal Mail postal discounts as mailings are lightweight..
UK & INTERNATIONAL POSTAGE
Letters, Large Letters and Parcels all have different pricing. Our solutions can not only save you money, but large amounts of time.
PERSONALISATION
Whether it's addresses on envelopes or variable images on postcards, if you need personalised printing, we have you covered.
DATA SERVICES
From Data cleansing to targeted data, we can provide a wide variety of data solutions that will match your needs.