Pollards – Exeter based printing services
---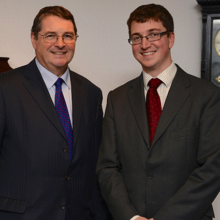 We are a well-established printers, based in Exeter, Devon. We are proud to be one of the oldest printers in the UK, with over 230 years of experience producing the highest quality printing services. Although we prize our heritage and reputation, we recognise the importance of embracing the changes that pave the way to progress in our industry and we are committed to investing in the most modern technology that will continue to provide effective and up to date printed material.
We have invested in the very latest litho and digital printing equipment to guarantee the very highest quality printing services on the market and at the most competitive prices. Our printers have a complete in-house design team, meaning we can provide you with excellent printed products, alongside a highly professional design service. We truly are a 'one stop shop' solution to any of your printing requirements.
Our willingness and motivation to embrace new technology has meant that we have become market leaders in the provision of online printing services and marketing communication tools. In order to satisfy the complex communication demands of our customers, we have developed a multi-channel capability that delivers marketing collateral for your entire business.
Our online systems allow you to order any product at any time whilst simultaneously enabling us to analyse workflow and establish cost effective production trends, which can result in up to 30% savings for our customers. As printers in Exeter, and one of the oldest in the UK, we pride ourselves in excellent service, high quality products and value for money and, after all, 230 years' worth of customers can't be wrong…